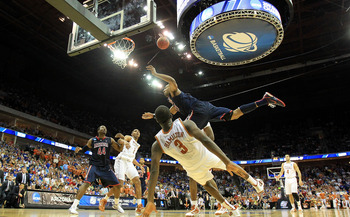 Madness was not a term chosen solely for an apt alliteration. Every March sports fans are sure to find buzzer beaters, Cinderellas and late game heroics contributing to the frenzy that is the NCAA Tournament.
After Selection Sunday, some rely on hunches while others use meticulous research to make their picks. We all wake up Thursday morning with an unwarranted optimism that this is the year we got it all right—the year we got that million dollar bracket.
(Even though we all secretly aware of the inevitable truth that Joe Schmoe's girlfriend will win the pool.)
For most bracketeers, the first weekend of play serves as a cold hard slap in the face from Fate that this year is not that year.
Personally, my bracket is so screwed it deserves its own Kama Sutra chapter.
Luckily, the Madness still has two big reasons to keep me utterly captivated: 1) My favorite college team (Ohio State) is still in it and 2) my favorite NBA team (Cleveland Cavaliers) holds two lottery picks in the 2011 NBA Draft and there are several players worthy of lottery selections left in the tournament.